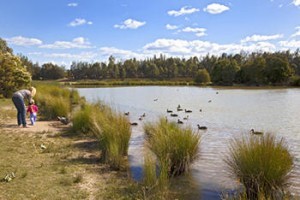 Glenmore Park, situated on an 800-hectare site, was officially opened in February 1990.
Glenmore Park takes its name from the single-storey cottage named Glenmore built by Henry Cox and his wife, formerly Frances Mackenzie, in 1825. The house and old sandstone stables are now part of the Glenmore Country Club.
Over the past thirteen years, Glenmore Park has established itself as one of Western Sydney's premier addresses, and deservedly so.
Glenmore Park is a thriving, friendly community; a neighbourhood, not just a suburb. A place where you can enjoy the beauty of its outstanding natural surroundings, within an environment designed to enhance every aspect of your life.
Glenmore Park has over 20km of hike and bike trails.
Glenmore Park offers a variety of educational facilities from early childcare to school care.
The Glenmore Park Town Centre is the business hub to over 25 shops.
The Town Centre
With a vast range of shops and facilities, Glenmore Park's Town Centre offers residents a wide range of products and services with its 25 shops. Woolworth's is a key asset, along with a butcher, McDonalds, newsagent, chemist and medical centre. The large town square is also a popular meeting place.
Blue Hills Wetlands
One of the most noteworthy areas in Glenmore Park is the award winning Blue Hills Wetland. The Blue Hills Wetland was designed to create a natural habitat for the numerous species of wildlife, including water birds, ducks, turtles and frogs that inhabit the area. Some stunning man-made features have also been created, including public art, large sandstone sculptures, interpretative signage, bird hides, picnic and BBQ facilities.
Parks and Reserves
In Glenmore Park there is a healthy outdoor lifestyle on offer as much of the area is devoted to parks, reserves, lakes and the wetland. Family activities like picnics and BBQs are frequent in Glenmore Park with areas like Blue Hills Park and Windmill Park boasting excellent facilities. There are also numerous playgrounds to provide great fun for the kids.
Hike and Bike Trails
Whether you like to ride, run or stroll, Glenmore Park's 20kms of hike and bike trails are waiting to be discovered. These cleverly designed network of trails connect the residential areas with the many parks, lakes, playgrounds, Town Centre and other places of interest.
Education
There is a wide range of excellent schools available in or around the area. These include child care centres and both public and private schools. The University of Western Sydney, Nepean Campus is a short drive or bus ride away from Glenmore Park.
Community Groups
No matter what you are interested in there's almost definitely a community group or club for you, including:
Scouts
Sporting Groups
Yoga
Rotary Club
Tai Chi
Guides
Dance Classes
Places of Worship
Youth Services